CURRENT COURSES
ABOUT
CONTACT
RESOURCES
MEDIA
COURSES
SELECTED PROJECTS



A comprehensive open-source torts casebook.




The tangible history of intangible property.

Physical artifacts from the cases that define the law of copyright, patent, trademark, and other fields.




Exam booklets from past courses.

Nuclear disaster threatens a posh ski resort, imagined aliens cause a mishap at a secret lunar base, a 1975 Ford Pinto takes to the skies, and much, much more.
ARTICLES
BLOGGING

POSTERS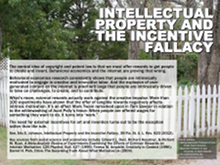 PHOTOS
Content, design, photography, and coding by Eric E. Johnson, except as otherwise noted.

Eric E. Johnson photo, Scott Jo (copyright © 2004 Kit & Eric E. Johnson); Ultrahazardous Immunity poster photos and illustrations by

various

; IP and Disability poster photo of Walt Disney Concert Hall by Carol M. Highsmith; Torts icon illustration of automobile collision depicted in sign from the Polish road transportation authority.